Post-meeting field trip 2
Diagenetic history of the Podhale flysch basin
Leader: Jan Srodon
Podhale Basin
The Podhale region is situated between the Tatra Mts. and the Pieniny Klippen Belt. The shale and sandstone rocks (Podhale flysch) outcropping today in Podhale, fill a Tertiary sedimentary basin developed on a basement composed of Hercynian crystalline rocks and their Mesozoic carbonate cover, which itself is outcropping in the Tatra.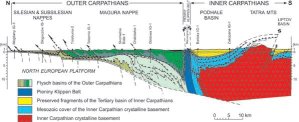 Cross-section of the Carpathians along the Krakow-Zakopane transect
The Podhale Trough is a remnant of a much larger Tertiary basin, which once covered the entire Inner Carpathians. This basin was broken into parts and preserved in tectonic depressions, but removed by erosion from the elevated blocks, including the Tatra block. The Podhale Trough continues towards the west into the Orava Trough. Their northern border with the Pieniny Klippen Belt is tectonic and the contact with the Tatra is erosional. In the east the Podhale Trough continues into the Spišská Magura area and it is separated from the Levoca Trough by a major Ruzbachy fault. Podhale region is known as an area rich in thermal water, exploited for heating purposes as well as recreation (swimming pools). The thermal springs at the foot of the Tatra Mts. are the surface manifestations of an active geothermal system.
This field trip will explore the diagenetic history of the Podhale basin, unraveled by XRD, K-Ar, and AFT studies. Four stops are planned:
Stop 1. Male Ciche
An outcrop of the Podhale flysch rocks, which includes two bentonite beds (monomineral 36%S R1 illite-smectite)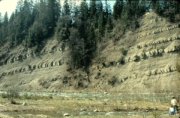 Podhale flysch
Stop 2. Debno Podhalanskie
Beautiful Archangel's Michael church built in 15th century in log construction; the oldest wooden church in Poland, with famous Gothic wall paintings. The church was included at the UNESCO World Heritage List in 2001.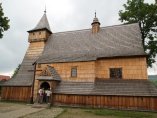 The Archangel's Michael church
Stop 3. The Wdzar Hill
From top of the Wdzar Hill the present morphology of the basin, reflecting its diagenetic history, is well visible.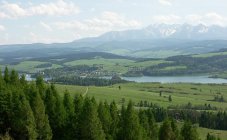 The Podhale Trough
Stop 4. Vysne Ruzbachy (Slovakia)
Thermal springs and travertine developed along the Ruzbachy fault.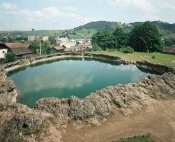 Vysne Ruzbachy - thermal spring
Attached pdf presents the topic of this trip.
Duration: 1 day
Start: Saturday, September 27, at 8.00 in front of the Hotel Belvedere in Zakopane
End: Saturday, September 27, at 20.00 in front of the Hotel Belvedere in Zakopane
Number of Participants: Minimum: 15; Maximum: 45
Recommended outfit: trainers/hiking shoes, wind/rain jacket and boots (in case of rain)
Transportation: bus
Registration: before April 30, 2008
Excursion fee: 50 EUR (includes: transportation, lunch and dinner in the restaurant)
Important note:
Participants will be accommodated in the Hotel Belvedere in Zakopane (hotel reservation through the
Registration Form
). Fieldtrip fee does not cover your hotel accommodation. In Vysne Ruzbachy an outdoor thermal pool with warm water (22ºC) will offer an opportunity to swim.