Venue
All the scientific activities of the MECC'08 will be held at the Conference Centre of the Belvedere Hotel in Zakopane.
Zakopane lies in southern Poland, about 100 km from Krakow, close to the border with Slovakia. It is situated at an altitude of 750 to 1100 m a.s.l.) at the foothill of the Tatras. Zakopane is called the winter capital of Poland.

Tatra Mts. - Lake Morskie Oko
The beauty and peculiarity of Zakopane is due first of all to the Tatras, mountains of Alpine character, within the Tatra National Park.
the Museum of Zakopane style, Mountaineers folk group
It is also remarkable the exceptional wooden architecture and folklore of local mountaineers. The symbol of MECC'08 is "parzenica", an embroidered design on the Tatra mountaineer's folk costume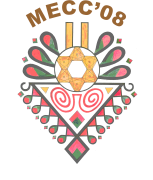 "Parzenica"
Moreover, for more than a hundred years Zakopane is a centre of cultural life, giving inspiration to numerous artists, e.g. famous composers Karol Szymanowski (Harnasie [Highland Robber] - ballet-pantomima) and Wojciech Kilar (Orawa for chamber string orchestra) as well an artist Stanislaw Ignacy Witkiewicz.
Painting by S.I. Witkiewicz
Weather
The high altitude and the surrounding high mountains are the main factors of Zakopane's mountain climate. In September, the characteristic weather in Zakopane and the Tatras is beautifully sunny. However, the temperature remains cool at an average of about 18ºC, although it may sometimes decrease below 10ºC. As usual in the mountains, the weather may be variable. Rainy and cold days are not excluded. Therefore, it is advised to bring a worm pullover and raincoat. In Autumn there is a local, föhn-type of wind called "halny". It is warm and dry, and blows from the Tatras, i.e. from the south, for a few hours to 3-4 days. Its speed often reaches 100 km/h and the wind gets on sensitive people nerves.